Steps you through the process of Sibelius|Ultimate activation using your Sibelius licence System & Activation ID codes in the Avid Link Application.
Avid Link is the current application for managing most Avid product licensing, downloads and updating. Its predecessor was called Avid Application Manager.
Note: you must be on an unrestricted internet connection for this to work. If you are on a school internet connection with a corporate firewall it may block the process. A common way of getting around the school firewall proxy issue with Sibelius licensing (and other products that use a 'call to home' encircling procedure) is to set up a WIFI hot-spot on your smart-phone if you have one, and connect the PC or Mac in question to the internet via that hot-spot temporarily instead of via the school's corporate internet connection.
For school IT professionals; Avid have an article you can access at the link below, which details a list of CNAMEs and port numbers that need to be opened on your firewall in order to successfully activate an Avid software license over the internet and see Updates and Feeds through Avid Link, Application Manager and Avid License Control:
https://avid.secure.force.com/pkb/articles/en_US/FAQ/Avid-Link-Networking
Note 2: For all who need to use the manual process for Sibelius activation detailed in this article, it is recommended that you remain 'signed out' of your Avid account within Avid Link. There is no benefit to 'signing in' to Avid Link if the automated processes within it are problematic on your device. It is also recommended that all devices using a seat from a 'Stand-Alone multi-user' Sibelius|Ultimate license remain 'signed out' of Avid Link. Instructions for 'signing out' of Avid link are available at the link below:
https://avid.secure.force.com/pkb/articles/en_US/How_To/Avid-Link-Sign-In-and-Sign-out
Step 1)
In Avid Link, click the 'Products' Tab, locate 'Sibelius|Ultimate', then click the drop-down menu on the right and select 'License':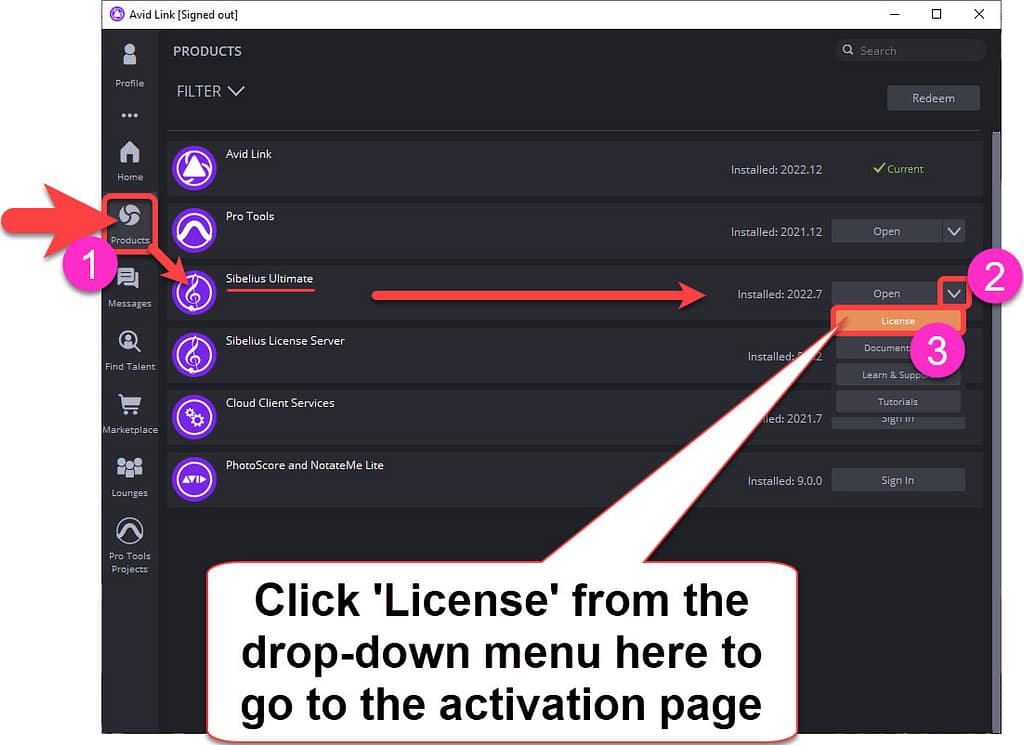 Step 2)
Retrieve and copy your System/Activation ID's from the my.avid.com/products page of your Avid account via a web browser as shown below if applicable, or via an email/document you've received from Music EDnet, school admin/IT, Avid support or elsewhere:
Note: The following Avid help page shows how to find your Sibelius System/Activation ID's in your Avid account if you're having trouble locating them:
Step 3)
Paste or type your Sibelius Licence System & Activation ID's into the 'Online' activation page of Avid Link & click 'Activate':
Activation is now complete.
Close Avid Link at this point and if Sibelius does not subsequently prompt you that it is now activated, quit Sibelius and relaunch it and it will now start up as an 'activated' copy, showing your System ID on the start-up splash-screen (see example below):
Problems?
If you have any trouble with your Sibelius activation and have purchased your copy of Sibelius from Music EDnet, please get in touch with us via the options below:
Phone AU: 1300 723 700
Phone NZ: 0800 141 474
Email: support@musicednet.com
Or raise an online support ticket: https://support.musicednet.com/support/home
Purchased from another reseller or direct with Avid?
We also offer extended support services to all users at reasonable rates.  For more information please visit the page at the link below: