Consulting - Getting it right from the start!
There is no substitute for experience, expertise and persistence.
Your Partner in Effective Technology Planning
It is never too early to discuss your plans with Music EDnet. In fact, the earlier the better. Our first meeting is entirely FREE, with no obligation, and will have you and your school heading in the right direction.
When you choose to partner with Music EDnet you can be confident that the advice and guidance you receive represents current world's best practice in educational facility design for music, performing arts or media … no matter how small or large your project may be.
Educational facilities are all about creating an environment for effective learning led by teachers whom inspire students. And it is a given that the technology or "tools" available should be relevant, enable best practice and support future innovations. Suffice to say, the underlying infrastructure of ICT is a core factor in the effective delivery of modern education and can be very different to the systems employed in commercial and corporate facilities.
It's not even a secret. But the Music EDnet approach combines decades of experience working with schools and educators, continuously researching and discovering the technology that works best (and what doesn't) and then incorporating innovative systems and designs specific to each situation. This optimises the outcomes for educators as we build on solid, proven principles … not reinventing them … then incorporate the most appropriate technologies available.
A great deal of our time and resources is devoted to staying at the forefront of relevant technologies and systems design, working with leading manufacturers, testing ideas and new products and documenting the potential benefits for education. Like Thomas Edison, we have a huge library of concepts and designs that don't work, or fall well short of expectations … including many we have discovered in schools, some of which are in brand new buildings! And you might be surprised how often poor designs can be repeated.
This is fundamentally what sets Music EDnet apart from other engineering consultants and audio/visual technology integrators.
The Wide World of Wisdom. Beware!
Time and time again we see corporate focused and/or industry based solutions being applied in educational facilities that are simply inappropriate, complex to manage, limit future flexibility and add considerable costs in infrastructure. And when it comes to the performing arts spaces in particular the design mistakes can be quite major. The vast majority of these situations are the result of poor advice, often from large national consulting companies, and/or the proliferation of mis-information through social media and the world wide web.
Occasionally, we are invited to join the discussion late … not ideal, but we have been able to make changes in these situations that have made a very real difference in the final outcome and often saved considerable expense (even after penalties are incurred for changes in specifications). In some cases of course, it is too late and it becomes a very expensive learning experience for the school's leaders and can disadvantage students for many years ahead.
Music EDnet is up for your challenge
Music EDnet welcomes all the questions and scrutiny you may have during the consulting process … and we will have many of our own questions to make sure that our advice and solutions are the very best for you and your school. We fully engage with all stakeholders as appropriate so no-one is left out and everything … the what, why and the how … is clearly shared and explained.
Music EDnet - Profile of Expertise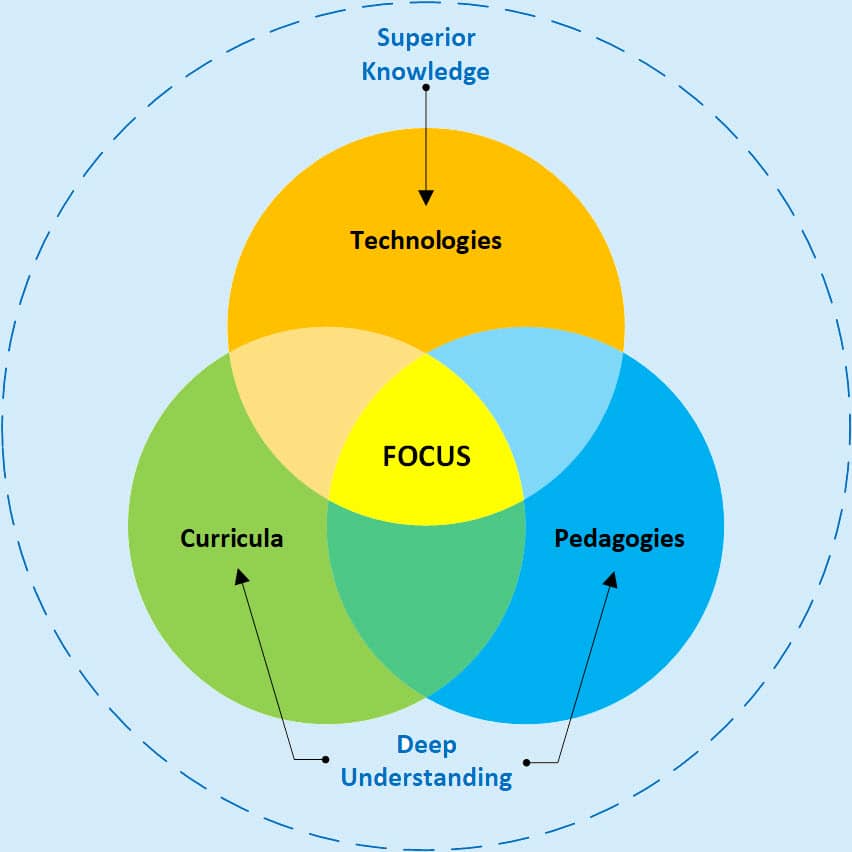 Contexts
K-12 Schools
Australia & New Zealand
Music, Media & Performing Arts
[with cross-curricular relevance]
Choosing Music EDnet as your educational project partner brings decades of experience to the discussion along with a unique profile of expertise. 
Superior knowledge of the relevant technologies and industry best practice
Deep understanding of current curricula
Deep understanding of current pedagogies
Our unique profile of expertise is underpinned by the TPACK framework of Technological Knowledge, Content (Curricula) Knowledge and Pedagogical Knowledge. TPACK is widely accepted as the best framework for educators integrating technology.
Further reading: TPACK Model