With digital audio recording an important part of a multi-million dollar school building upgrade, Hallett Cove School approached Music EDnet for some planning advice. What the school ended up with was well beyond expectations.
A Digital Audio Recording Studio – the plan begins
When Specialist Music Teacher, Rafael Godoy, first contacted us about this exciting new project, it was for advice about installing multi-core audio cabling and patch panels in a couple of the music rooms. Our initial advice was simple … don't!
We explained that there are far better options these days … and much cheaper and more flexible.
Following a brief tour of the music and performing arts building our plan was clear. This was a great opportunity to install a digital audio network. The next step was a meeting with IT to explain how this works using the school's ICT infrastructure. All we needed was a couple of additional points in the Control Room and the network would be ready.
The simplicity and flexibility of using the network for multi-channel audio recording meant there were substantial savings in hand compared to installing expensive multi-core cabling and XLR wall panels. And when you consider that every network point in the building can accept multiple channels of professional level digital audio in and out, you now have every classroom and teaching studio available  for recording.
The Control Room
With connections sorted, Rafael was now looking to upgrade his Pro Tools recording station and adding a control surface (instead of using only a mouse and QWERTY keyboard). We chose one of the teaching studios as an ideal Control Room location and advised some basic acoustic treatment as part of the building upgrade. The room also had acceptable acoustic isolation from adjacent rooms … with the help of some new double-glazed windows.
All we needed to add now was a talkback mic (that connects directly to the network), upgrade the near-field monitors and house everything in a custom designed recording desk … a Music EDnet Creation Station (CSD-Duo).
The CSD-Duo is specifically designed with a hutch to accommodate the near-field monitors at the correct height and spacing and twin computer monitors in the middle. The control surfaces are conveniently positioned on the desktop below with room for the normal mouse and QWERTY keyboard.
Two separate 4U rack bays include on-board power and space for local patch panels and ancillary electronics … such as a small line mixer for some flexible monitoring, a headphone amplifier and a network interface for local connections.
Pro Tools is running on a high performance PC with a 128 channel Dante network card installed that connects to the network.
The "Studios"
The Studios are now virtually every room in the music and performing arts building (but could in fact be anywhere in the school). All that is required for recording from a particular space is a network audio interface … a box, similar to a USB audio interface, except that it connects directly to a network point.
Network audio interfaces are available in many configurations … from a basic 2 channels up to 32 channels or more. For our system designs we only use network interfaces that use *Dante … a data protocol that is school ICT friendly and very easy to manage. This is quite important as other protocols, especially some that are brand specific, will NOT run on school networks or through standard school network switches.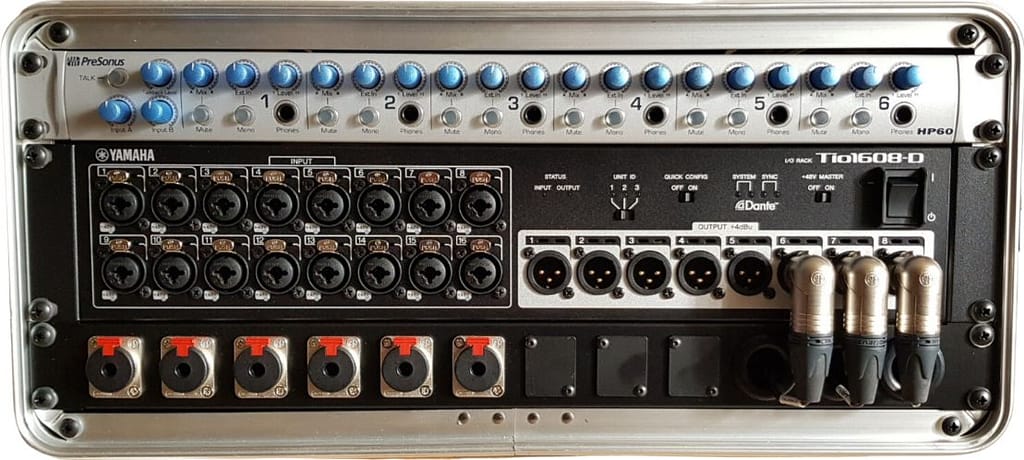 At Hallett Cove, we designed two small portable 4U rack cases (pictured above), each with a 16 input/8 output network interface, a 6 channel headphone amp and on-board power. These can be easily carried to any room, connected to power and a network point and you are ready to go.
Each rack unit allows up to 16 inputs from  mics/instruments, up to 6 headphone outputs for student monitoring and can also connect to a classroom PA or sound system if desired. Each of the headphone channels has an additional local input accessed via the patch bay along the bottom. This allows students to add another source directly into their personal mix … such as an instrument or a portable playback device.
Design summary
Eliminating the need for multi-core analog cabling and the XLR patch panels saved considerable expense. The budget could now be mostly allocated to upgrading the Control Room recording station with enough remaining to include a good selection of studio microphones, DI boxes and multiple monitoring headphones to be used in the "studios".
Control Room setup
The control room desk is where everything comes together, housing all the main components and simply connecting to power and the school network. Main components included:
Custom PC with Pro Tools software and a Yamaha AIC-128D Dante interface card
Universal Audio UAD-2 Octo DSP accelerator card
2 x AVID S1 control surfaces with motorised faders
AVID Dock Master Unit control surface, including transport controls
Yamaha HS8 bi-amped near-field monitors
Audio Technica Dante equipped talkback mic
Behringer RX1602 v2 line mixer
ESI Planet 22X 2-channel Dante interface
PreSonus HP4 headphone amp
Network interfaces for "Studios"
We initial supplied two multi-channel portable racks. These can be used simultaneously anywhere on the network and additional interfaces can be added in the future. Each portable rack includes:
*Dante – Digital Audio Network Through Ethernet.
Developed by Australian company, Audinate, Dante has become the pseudo standard for digital audio networking worldwide.