Music EDnet CS61 Creation Station
Custom computer music desk for 61 note keyboard
The CS61 Creation Station is designed by Music EDnet and manufactured in Australia based on our many years of experience installing hundreds of computer music facilities in schools. Creation Stations ensure that music keyboards are conveniently accessible and positioned at the correct playing height and all cabling is neatly managed and secure.
The CS61 Creation Station is also available with on-board power and data points (CS61P).
(Music keyboard and Computer system not included)
To order – please contact Music EDnet.
A delivery charge is applicable, dependant on number of stations and the destination. This will be quoted separately.
Choose secure credit card payment via eway or use PayPal
Schools and Educational Institutions can
choose payment on INVOICE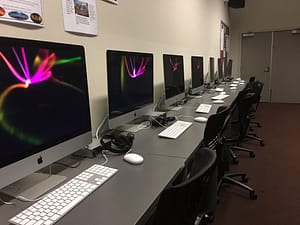 Labs with Creation Stations showing keyboards away and out ready to use.
Having installed hundreds of computer music and keyboard facilities in school over more than 30 years we know what works. The Creation Station series of music furniture has been designed for easy installation, durable reliability and functionality with everything conveniently at hand for students to create and learn.
Each CS61 Creation Station for computer music includes the following key design features
Heavy duty slide-out keyboard tray for 61 note keyboards* at the correct playing height (see CS49 for 49 note keyboards)
Solid 25mm laminated MDF** desktop and tray
Cable management basket to support and secure all cabling (can face front or rear of desk)
Optional on-board power (double GPO) with A/NZ approved soft wiring (CS61P)
Delivered in convenient flat-pack form for local assembly
Available in 3 standard laminate colours and many custom colours
Manufactured in Australia
CS61 Creation Station Dimensions: 1030mm wide x 650mm deep
School-tough music keyboard tray
The slide-out keyboard tray is designed to support a selection of appropriate keyboards used in computer music station … at the correct playing height. Cables connected to the keyboard, including USB as well as any required audio and power, are neatly hidden and managed by the nearby cable management basket at the rear of the desk. The heavy duty ball-bearing glides are rate to support a 45kg load.
On-board power and data ready – CS61P
The CS61P comes complete with on-board power (double GPO) and approved soft-wiring that allows daisy chaining of multiple desks from a single power point. Up to 10 desks can be connected to a single power circuit, greatly simplifying installation. A standard network data point holder is also included ready for easy and convenient connection by the school's cabling contractor.
NOTE: The data point holder accepts a standard Clipsal RJ45 socket. These are supplied by the school,s cabling contractor to suit the cabling being installed (Cat5e, Cat6 etc).
Popular colours
The CS61 Creation Station is available in many colours, but the most popular are Olympia Blue, Zincworks and New Graphite. Other colours are available on request. Note that colours on screen are an indication only.
*Standard design accommodates most 61 note USB MIDI controller keyboards and Music EDnet recommended Casio CTK series keyboards (contact Music EDnet to confirm). The CS61 can be customised to suit most 61 note keyboards on request (small additional cost).
**All MDF is Australian manufactured and meets all required Australian and New Zealand safety standards for use in schools